19/10/2013 16:49
Here is another artists who was probably born but surely baptized in October - Jan Vermeer. There are some facts about him by Dóri Patkós, 8/c.
Jan Vermeer (baptized October 31, 1632- buried December 16, 1675)
Image (Young Woman with a Water Pitcher, ca.1662) taken from https://www.metmuseum.org

Johannes (Jan) Vermeer was a Dutch painter who specialized in domestic interior scenes of middle-class life. Vermeer was a moderately successful provincial genre painter in his lifetime. He seems never to have been particularly wealthy, leaving his wife and children in debt at his death, perhaps because he produced relatively few paintings.
Vermeer worked slowly and with great care, using bright colours and sometimes expensive pigments, with a preference for cornflower blue and yellow. He is particularly renowned for his masterly treatment and use of light in his work.
Vermeer painted mostly domestic interior scenes.
Vermeer began his career as a history painter and not as a painter of genre interiors for which he is renowned today. His first known works were Christ in the House of Martha and Mary (picture 1 below) taken from a Biblical narrative and Diana and her Companions (picture 2 below) drawn from Greek mythology. Two other paintings, Jupiter,Venus and Mercury and The Visit to the Tomb have not survived.
Images taken from https://www.essentialvermeer.com

For two centuries after Vermeer's death, his works were appreciated by a number of connoisseurs in Holland—although attributed in many cases to better-known artists such as Metsu or Mieris—but were largely overlooked by art historians.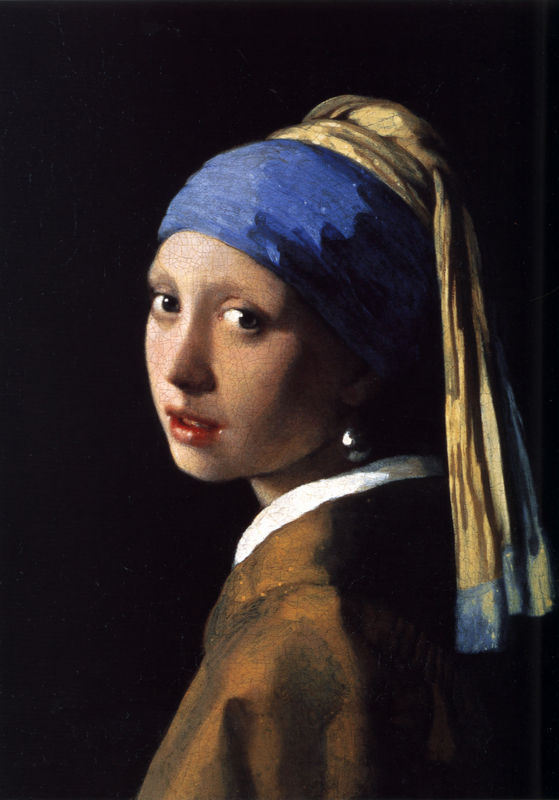 Girl with a pearl earring, c 1665